Welcome To Quality Drywall
THE BEST PROFESSIONAL DRYWALLER AND FINISHER IN BERMUDA!!!
Mukhtar is a decisive, action-orientated and results-focused professional drywaller and finisher offering 5.5 years experience in Drywalling and 2 years in plumbing.
I offer outstanding skills in mudding, taping, finishing done quickly with perfection. I have excellent communication skills. I am a dedicated hard worker and focus on delivering a quality product in a reasonable amount of time at a competitive price. My work can be seen all over the Bermuda.
·
Professional Qualified Drywaller and Finisher with 5.5 years experience which includes : o

Boarding

o

Mudding, taping, finishing

o

Framing

o

Blueprint reading
· Qualified Plumber with 2 yrs experience
·
Highest Plumbing graduate score
PLEASE CHECK OUT THE MY PHOTOS LINK TO THE TOP LEFT FOR PICTURES OF MY FINISHED AND SEMI-FINISHED WORK
Do you need to Hire a Drywaller/ Installer?
Many homeowners and business owners want to remodel, repair, and maintain their homes and offices. Whether you're finishing an office, a room, garage, basement or attic or you are doing a complete remodeling job, you can hire a professional drywaller to put sheetrock on the walls and ceiling faster and more professionally than doing it yourself AT A VERY LOW PRICE. SAVE MONEY AND GET THE BEST PRODUCT!!!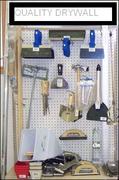 NEED AN ESTIMATE? OR A DRYWALLER? CLICK THE LINK BELOW TO GET ONE.
NEED AN ESTIMATE OR A DRYWALLER? CLICK THE LICK TO THE TOP RIGHT OR THE LINK BELOW TO EMAIL ME!!!.
UNDERSTANDING DRYWALL